Hale Mortuary Chapels
The history of the cemetery dates from 1871 when at a meeting at St John's church in Hale it was announced "that an offer of the Farnham Burial Board to provide a new Burial Ground and Chapels for Hale out of the Poor Rates of the whole Parish be accepted and that the two acres of land on the Common granted by the War Office to the Parishioners of Hale for the purpose of a Burial Ground be made over to the Burial Board of Farnham for this object." Tenders were invited for the construction of the two chapels, lodge, the gate and walls. Sidney Stapley was the appointed architect and the lowest tender came from Goddards the builders in East Street. By November 1872, all was completed.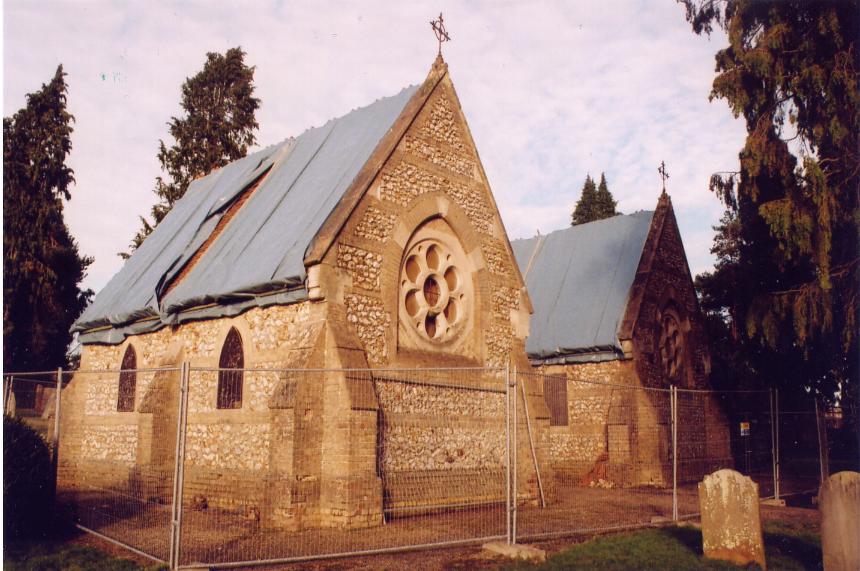 The Architect of the Hale Mortuary Chapels: Sidney Stapley
Sidney Stapley was an architect and surveyor born in Tunbridge Wells in 1825 who married a Farnham girl (Kate), and had a practice at 23 West Street, Farnham, in the second part of the 19th century. He was appointed to design the two chapels, the lodge, the gate, and the walls in Upper Hale cemetery; which were constructed in brick and flint by Goddards of East Street, and were completed in 1872. One chapel was consecrated as Church of England, and the second for other denominations.
He was appointed Surveyor to the Local Board in 1875, and retained the post until he resigned suddenly and without explanation in 1882.
He is probably best known as the architect of Holy Trinity Church in Aldershot, the first church to be built there after the arrival of the Army. It is also suggested that he submitted plans for Farnham Maltings, though it is not known whether they were accepted.
The Museum of Farnham holds some brief information about him from correspondence with the then Farnham Local Board ( later Farnham Urban District Council ).