Hale History Project keeping the memories of our villages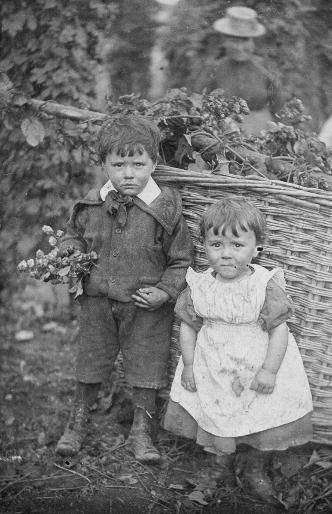 Harrington children in local hop field 1904 ref 321
courtesy of John Harrington
You are invited for coffee

The History of Hale Project holds monthly Coffee Mornings in the Hale Village Hall on the last Saturday of the month 10.00-12.00.
Do come along and find out more. Sample our coffee and cakes, look at the history exhibition, enjoy looking at the volumes from the archive of local postcards, family photographs and other material. As a social activity, we have a book exchange and sales. Bring along your photos and memories. You will be sure of a warm welcome.
UPDATE RE MEETINGS
Our regular Coffee Mornings have re-started.
Coffee Mornings are now on the last Saturday of each month until further notice. Except December
Next Coffee Morning
Saturday 30th September.
Our display this month will be Hops and Hop Picking. Please bring along any photos and memories that you may have.
The total amount collected at the Remembrance Service last November was £186 .49p
Thank you to all who contributed.
NEW PUBLICATION
Not a History of Hale product, but one that contains a great deal of local information. The book entitled Farnham in the Great War is a Farnham Museum publication by Maurice Hewins and is available price £10 from:-
tinaron@tinyworld.co.uk
About Us
This is a voluntary project which has developed from the great interest and enthusiasm in the history of their locality emanating from the residents and ex-residents of Hale, Upper Hale, and other nearby hamlets and villages, to the north and east of Farnham in Surrey.
Aside from the local history, the Project also takes an interest in current events in the local area.
The Project is open to anyone who is interested in this part of Surrey.
Our Work
This project is open to YOU - if there is any aspect of local history in the area that you would like to research or are already researching - make yourself known to us - you may find research is already in progress - if not or you are a beginner you will get help and guidance.
Stories, reminiscences, and researches - people or places - if it is connected with Hale and the surrounding hamlets and villages, it is of interest to the Project.




What's new?

Click on the "New" Tag